A HEALTHY WEIGHT STARTS WITH HEALTHY HABITS
Being overweight puts our pets at risk of developing a number of health concerns. Studies reveal that excess weight is linked with a reduced life span in dogs1 and cats2.
It's vital that as an industry, we work together to ensure we battle this disease and help support owners in managing the weight and health of their pets throughout their life.
Launching November 2019, the ROYAL CANIN® WEIGHT MANAGEMENT range offers tailored nutritional solutions to support healthy weight and the management of cats and dogs with diabetes mellitus.
Start adopting healthy habits today by promoting a healthy weight for cats and dogs.
Obese cats may have their lifespan shortened by 1.9 years compared to cats with an ideal body condition score (BCS) 2  and overweight dogs may live up to 2.5 years less than those at an ideal weight 1
SATIETY WEIGHT MANAGEMENT is the gold standard in nutritional support for Weight Management due to its specific macronutrient profile including high levels of specific fibre.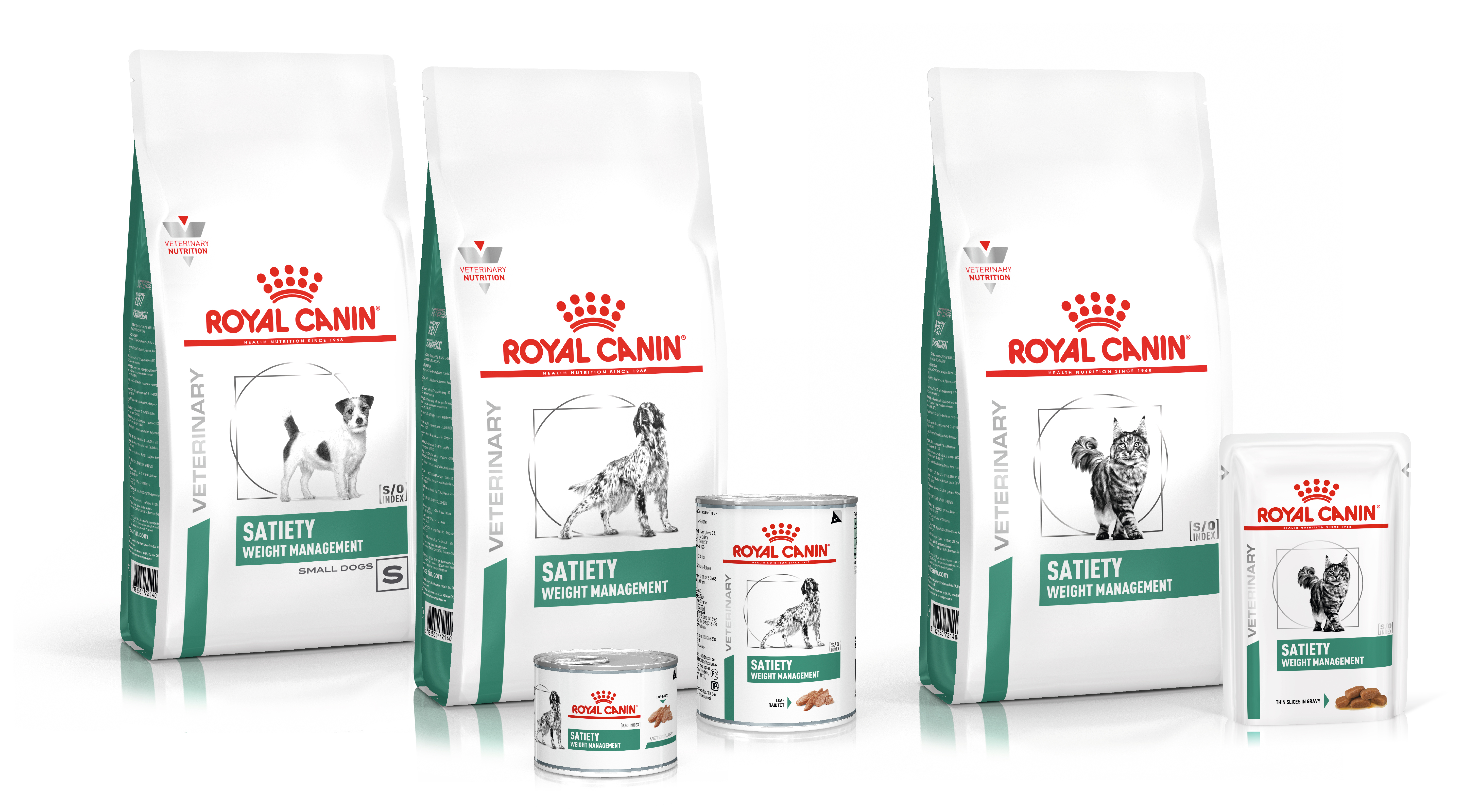 All diets throughout the WEIGHT MANAGEMENT range now in our new premium pack design. The launch will also see:
IMPROVED FORMULA – A new kibble shape in Canine SATIETY dry (medium/large dog) that increase chewing and meal duration 8
ROYAL CANIN® DIABETIC – Studies reveal that being overweight is a major risk factor for Diabetes Mellitus in cats and dogs 3,4
Obesity can impact diabetic control by:
Decreasing insulin sensitivity (insulin sensitivity decreases by more than 50% in obese cats) 5,6,7
Contributing to insulin resistance 5,6
In the case of a diabetic pet, dietary management is of major importance along with appropriate medical care. A consistent dietary intake is key to achieving and maintaining glycaemic control.
ROYAL CANIN® DIABETIC is specifically formulated to help in the management of glycaemia, the macronutrient profile supports glucomodulation, maintenance of lean muscle mass and optimisation of ideal body composition.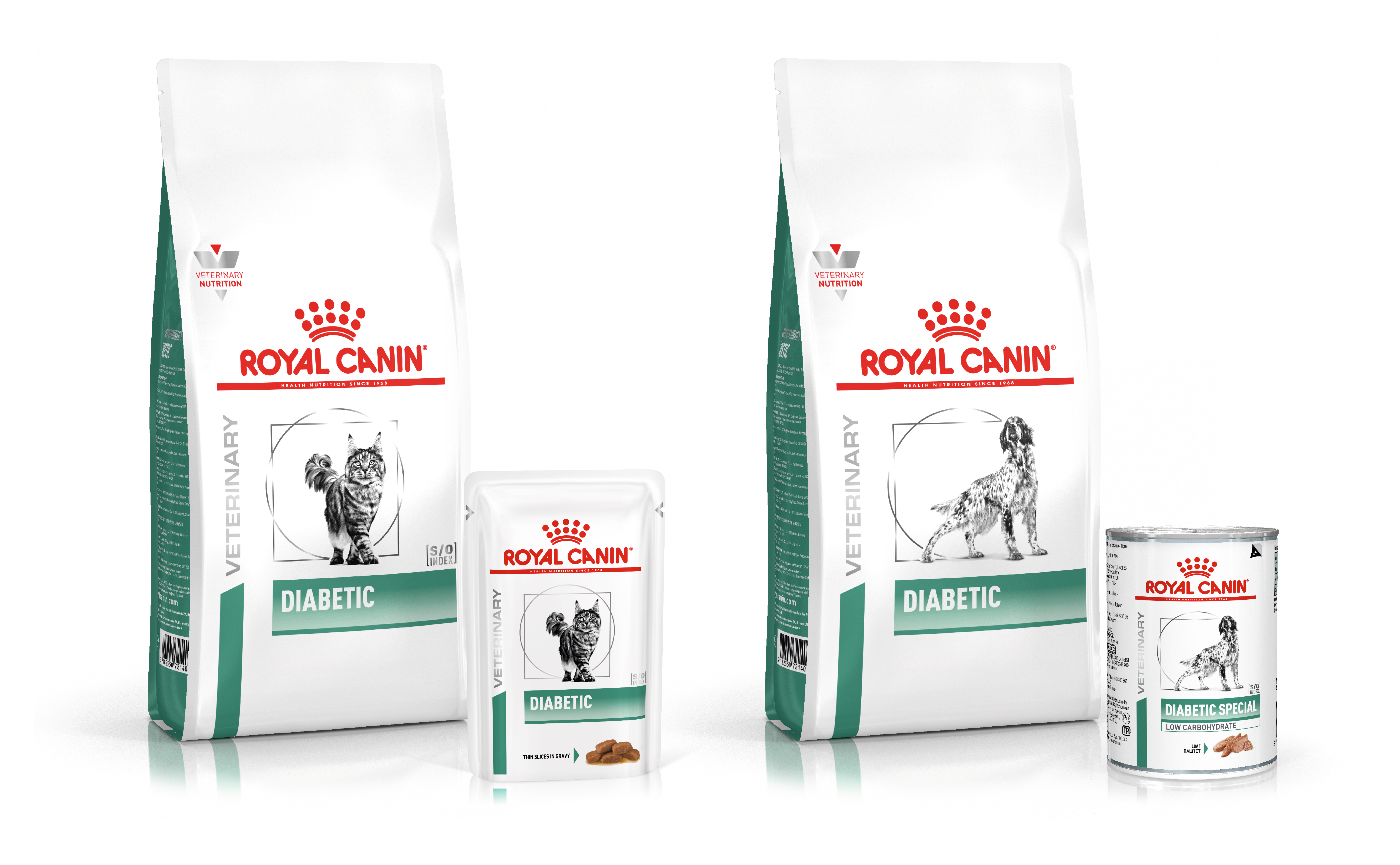 For more information, click to download the following support materials:
You can advertise the SATIETY and DIABETIC range on your social media platforms: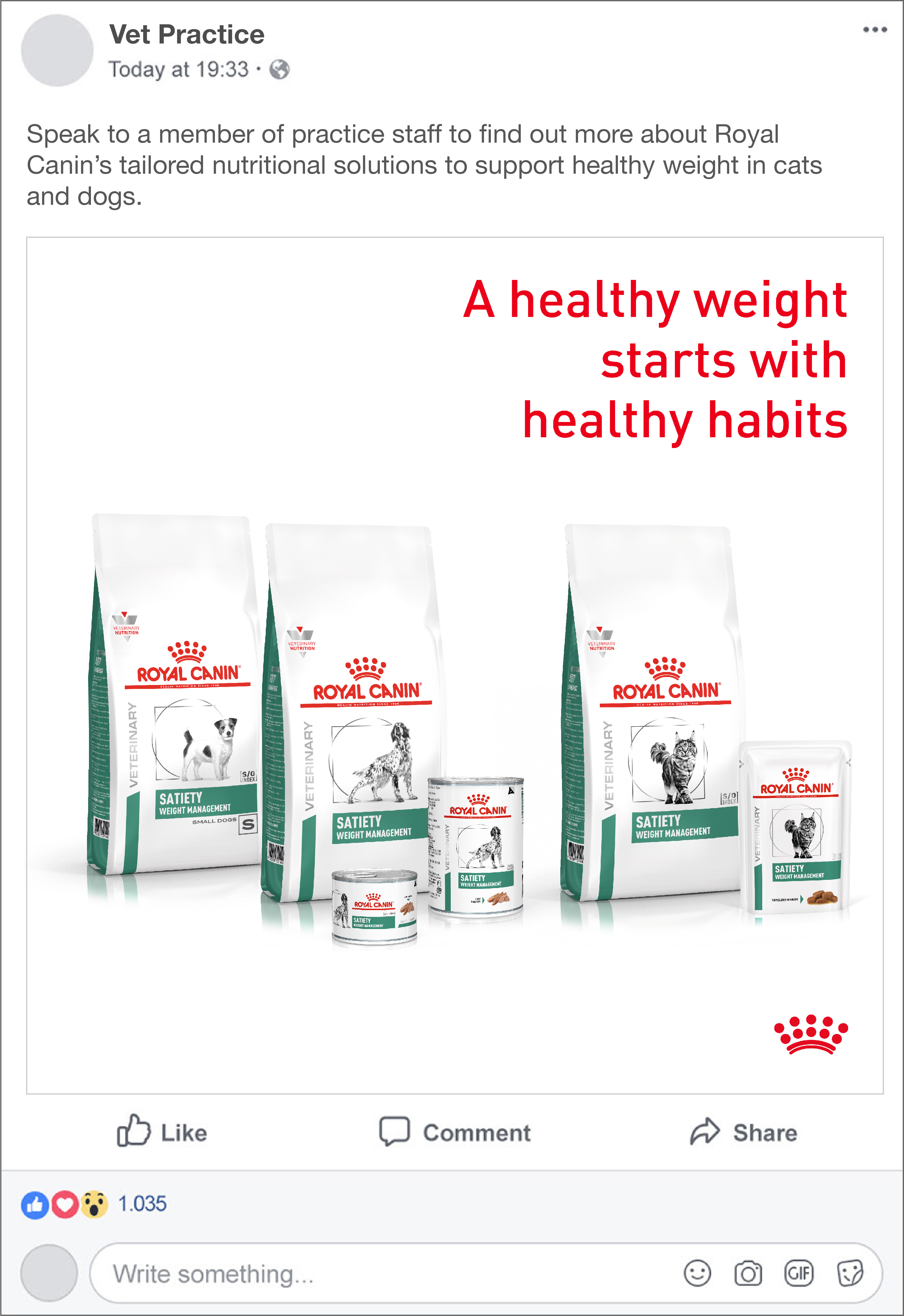 Download your social media assets Healthy Habits and Satiety posts and use alongside above suggested text.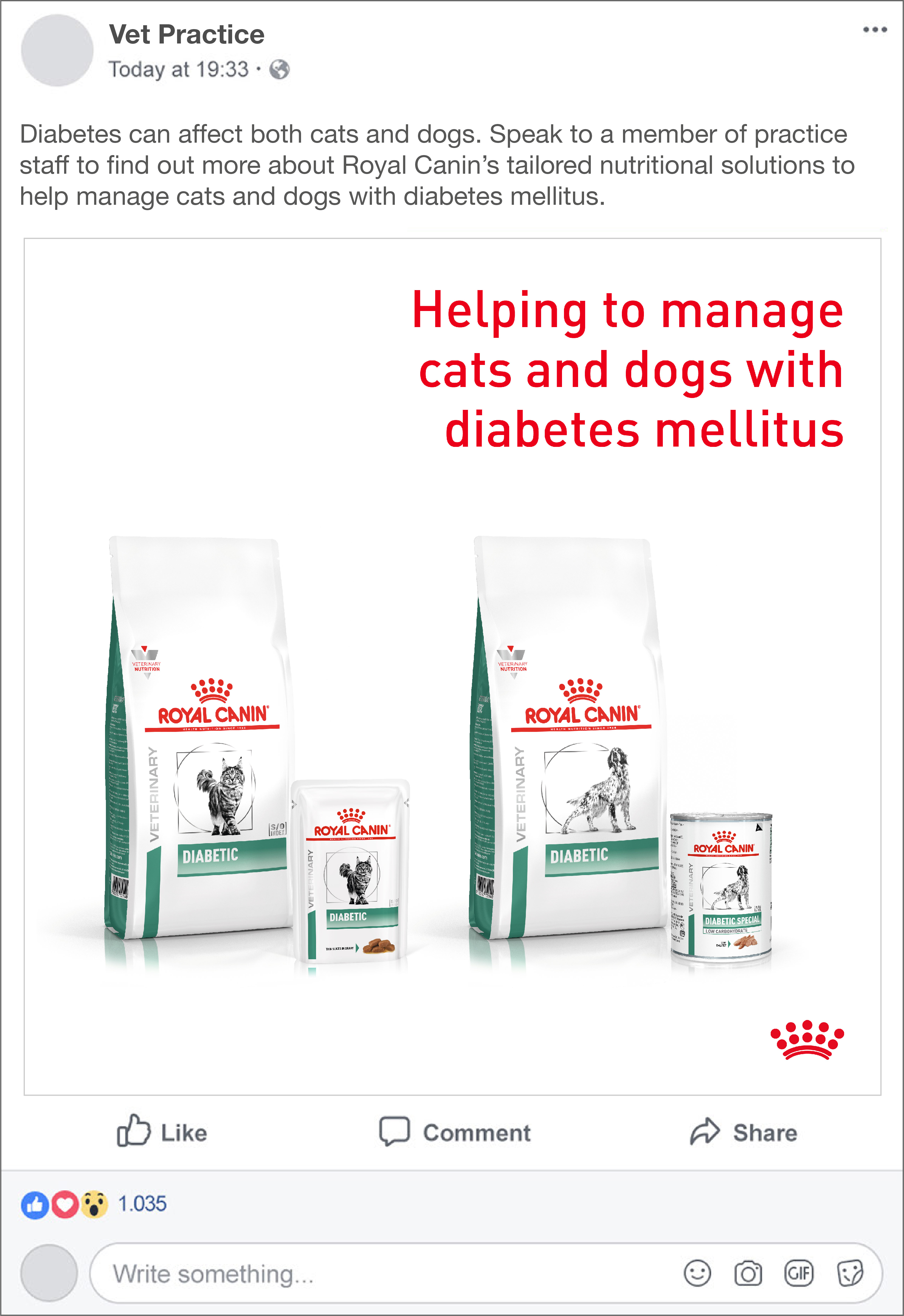 Download your social media assets here and use alongside above suggested text.
Use our Weight Management Assist tool to track your clients cats and dogs weight and progress to becoming a healthier, click here to access Vet Follow Up.
Discover more about the next generation in Veterinary Health Nutrition or contact your Royal Canin Veterinary Business Manager for more information.
1 Salt C et al. Association between life span and body condition in neutered client-owned dogs. J Vet Intern Med 2018;1-11.
2 Teng KT et al. Strong associations of 9-point body condition scoring with survival and life span in cats. J Feline Med Surg 2018;1-9.
3 Scarlett JM and Donoghue S. Obesity in cats: Prevalence and prognosis. Vet Clin Nutr 1996.
4 Poppl AG et al. Canine diabetes mellitus risk factors: A matched case-control study. Res Vet Sci 2017;114:469-473.
5 German, A.J., M.Hervera, M. Hunter, L., Holden, S.L., Morris, P.J., Biourge, V., Trayhurn, P. (2009) 'Improvements in insulin resistance and reduction in plasma inflammatory adipokines after weight loss in obese dogs', Domestic Animal Endocrinology, 37, pp. 214-226.
6 Appleton DJ, Rand JS and Sunvold GD, Insulin Sensitivity Decreases with Obesity, and Lean Cats with Low Insulin Sensitivity are at Greatest Risk of Glucose Intolerance with Weight Gain. Journal Fel Med & Surgery 2001 Vol 3.4 211-228.
7 Andre A et al, Recovery of insulin sensitivity and optimal body composition after rapid weight loss in obese dogs fed a high-protein medium-carbohydrate diet .J Anim Physiol Anim Nutr 2017 Jun; 101 Suppl 1:21-30.
8 Sagols, E., Hours, MA., Daniel, I., Feugier, A., German, A.J. (2019). Comparison of effects of different kibble shape on voluntary food intake and palatability of weight loss diets in pet dogs. Research in Veterinary Science 124: 375-382.